Tech Talk Tuesday: New Year Resolutions
Updated: Tuesday, January 7 2014, 11:18 AM MST

By Lonnie Valencia
The new year is upon us once again and it is time to make those wonderful resolutions. What's yours? I know mine! It's to play more video games this year. I know what you're going to say, "What kind of person would neglect his Xbox as much as I do?" My poor gaming behavior is going to stop tonight! Today on Tech Talk, I talk about the gadgets and apps that will help those of you that are going with the number one resolution made every year--getting in shape.




It's New Year's Eve and most of us are either looking back at what we accomplished in the year or looking ahead to start over with a clean slate. Our resolutions help us set goals to measure the success or failure of the new year. Would you believe that 92% of us will end the year as big fat failures? It's true according to the "Journal of Clinical Psychology" posted on statisticbrain.com. They also have a top ten list of new year's resolutions and believe it or not, losing weight(1) and staying fit(5) both made the list. To me, those are almost the same thing and playing more video games is never mentioned. I can't be the only one with that as a resolution...but I digress!

Now that you know the odds of your resolution to lose weight or staying fit are stacked against you, it's time to fight back with some tech. First on the list are activity trackers. It's like having a wrist bound trainer that will gently tell you get off you butt and move. They come in all shapes and sizes. Some activity trackers will even monitor your sleep habits, leaving no stone unturned to making you feel your best even when you're not awake.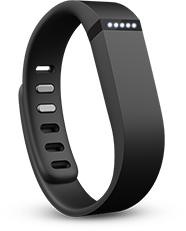 I recommend the Fitbit Flex for $99. It's under the hundred dollar mark, water-resistant, and works with an array of third party apps.


Activity Trackers to expensive for you? Then use your smartphone as your personal trainer. If you are like me you already have it with you 24/7 and another app download is nothing. Apple's app store already has a section called "Getting in Shape" and it has a ton of programs aimed at getting you fit.


Try "Runtastic Push Ups" for a $1.99. It is aimed at breaking the 100rep barrier of push-ups. I know that sounds simple, but when was the last time you did a push-up? For the price this app is a steal with great reviews. If this works for you then you can graduate to Runtastic's other apps like, Sit Ups Trainer, Squat Trainer, Pull Up Trainer, (you get the idea) and all of them are $1.99.

That does it for today, but I do want to leave you with a warning about your getting fit resolution. Most of the people that take up this effort for the year make the mistake of running out and getting a gym membership day one. The reason it is a mistake, is the fact you're signing a contract and will pay throughout the year. Take my advice and try one or all of my suggestions. If you stick with it and master all of the Runtastic apps or your tracker says your awesome, then go get your membership for the gym. On the other hand, if you are like the 92% that don't make it past the second month, you are only out (at the very least) $1.99. Here is how I see it, if you can't get past an app workout, you are not going to make it at the gym. I just saved you from being disappointed at the end of 2014 and, after all, aren't we all just really wanting to be happy throughout the year? That's why I'm planning to play more video games this year! Who's with me?
Have a great New Year and as always we would love your feedback/suggestions for this or our next edition, so feel free to send your comments to our resident Tech Guy Lonnie Valencia.